Posted on 19 November, 2020 in School Programs
NT Preschool Curriculum: Assisting Learning Outcomes
The NT Preschool Curriculum is used in conjunction with the Early Years Learning Framework and was developed as a practical guide to assist the preschool teacher to implement the Learning Outcomes of the EYLF for children from three to five years of age. The curriculum is based on the EYLF and its vision for children's learning, characterised by: Belonging, Being and Becoming.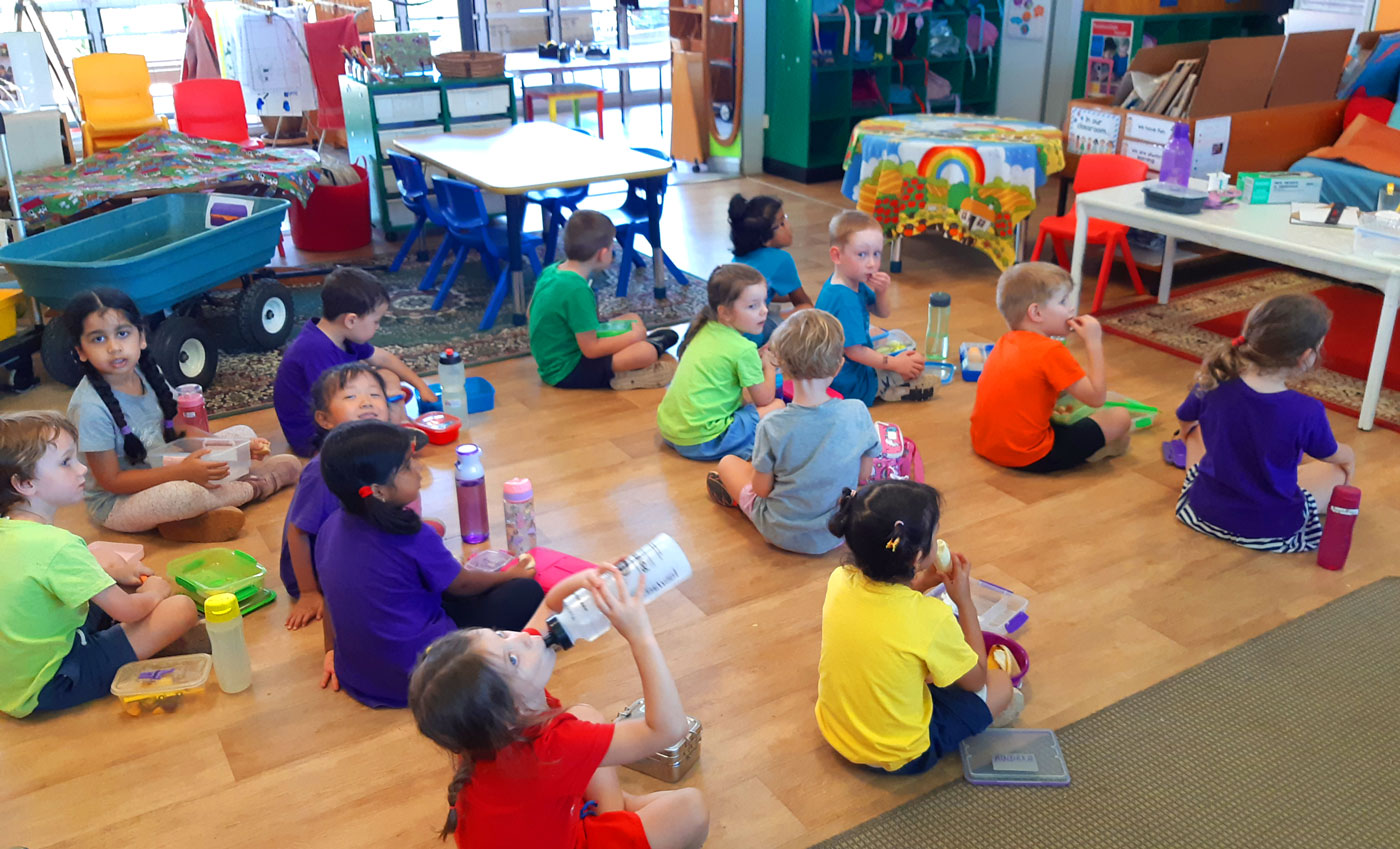 It was designed to strengthen and support the preschool teacher, to enhance effective practice and professional knowledge, and to assist gaining an understanding of children's interests and the importance of family and community priorities and contexts. There is a clear understanding of what children are capable of doing and how they develop effectively through play based learning and intentional/explicit teaching.
The Preschool Curriculum provides the next level of focus and detail, within the framework of the EYLF, to assist teachers and early childhood professionals to plan and program for children from 3-5 years of age.
The curriculum outlines the teaching practices and phases of learning, which can assist transition for children moving from child care settings to preschool. The curriculum also helps teachers to build continuity of learning for children when they move from preschool to the Transition class. It provides the links between the content of the curriculum and the Australian curriculum which is used by schools for students from Foundation to Year 10.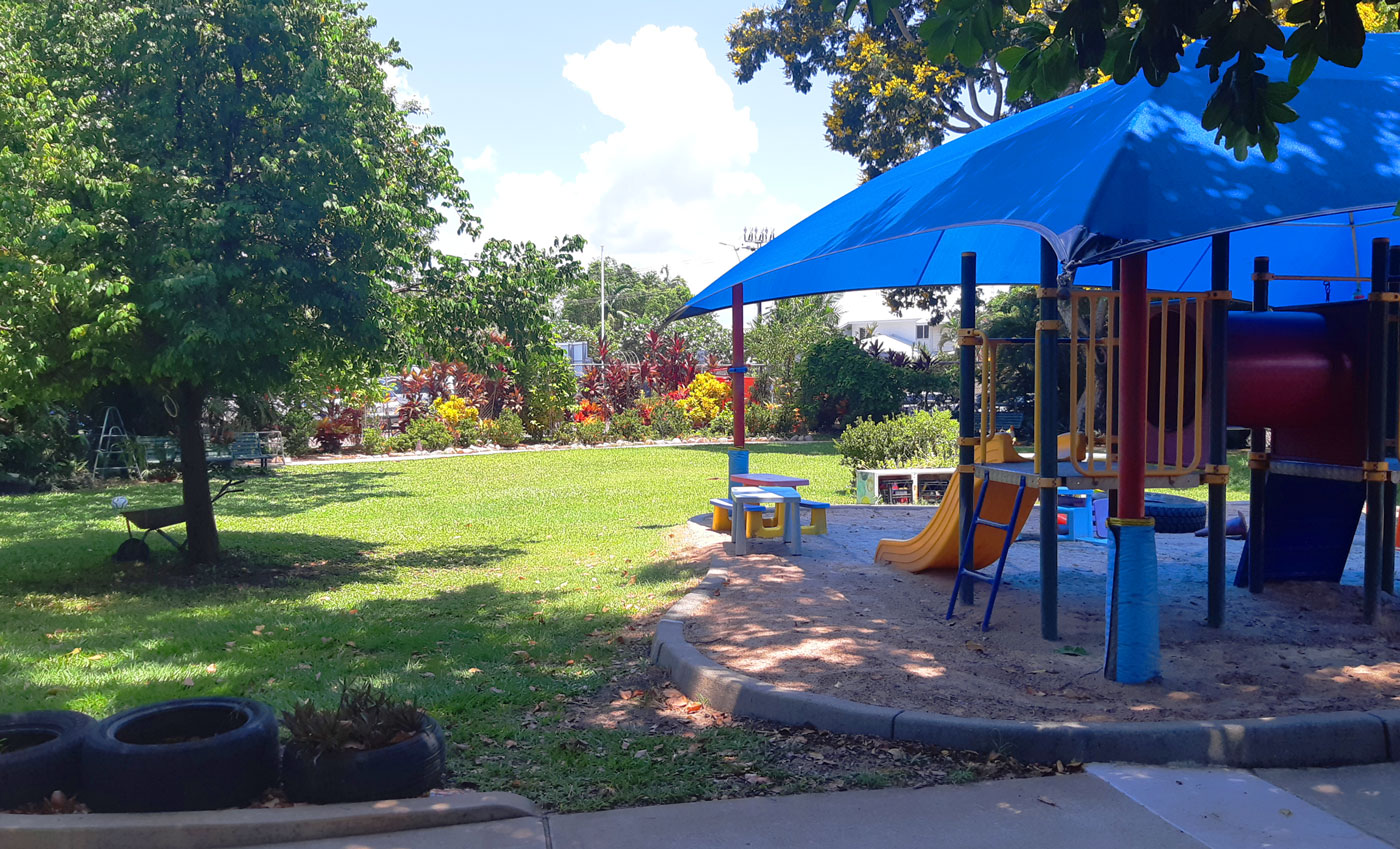 A large part of the curriculum is focused on communication. Many young Indigenous children living in remote communities are multi-literate, growing up in linguistically rich and complex environments where they are exposed to a number of languages and dialects. However, the lack of competence in Standard Australian English and unfamiliarity with the school environment can mean these children fall behind their peers. This can apply to children from a range of cultural backgrounds. Children learn about themselves and construct their own identity within the context of their families and communities. This includes their relationships with people, places and things and the actions and responses of others. Identity is not fixed, it is shaped by experiences. When children have positive experiences they develop an understanding of themselves as significant and respected, and feel a sense of belonging.
National Quality Standard (NQS)
The final area in which our Preschool is very different to the rest of the Primary relates to the National Quality Standard (NQS). The National Quality Standard sets a national benchmark for early childhood education and outside school hours care in Australia.
The NQS contains 7 quality areas that are important outcomes for children. The Quality Areas are:
Educational program and practice – The program and practice must be child-centred, stimulating and maximise opportunities for enhancing and extending each child's learning and development
Children's Health and Safety – Children have the right to experience quality education and care in an environment that safeguards and promotes their health, safety and wellbeing.
Physical Environment - Physical environment is safe, suitable and provides a rich and diverse range of experiences that promote children's learning and development.
Staffing arrangements - Qualified and experienced educators, who develop warm, respectful relationships with children, create predictable environments and encourage children's active engagement in the learning program.
Relationships with children - Relationships with children are responsive, respectful and promote children's sense of security and belonging.
Collaborative partnerships with families and communities - Collaborative relationships with families are fundamental to achieving quality outcomes for children, and community partnerships based on active communication, consultation and collaboration are essential.
Governance and leadership - Effective leadership and governance of the service contributes to quality environments for children's learning and development. Effective leaders establish shared values for the service and set clear direction for the service's continuous improvement.
Preschools are usually assessed on a 2 – 3 year cycle. The procedure involves assessors visiting the Preschool for 2 -3 days and going over every aspect of the Preschool with the Head of Preschool. The Preschool is rated against the National Quality Standard and will receive a rating for each of the 7 quality areas and an overall rating based on these results.
The results are displayed in the Preschool. If you have a child in Larrakeyah Preschool you may have seen this document displayed on the noticeboard to the left as you enter the Preschool.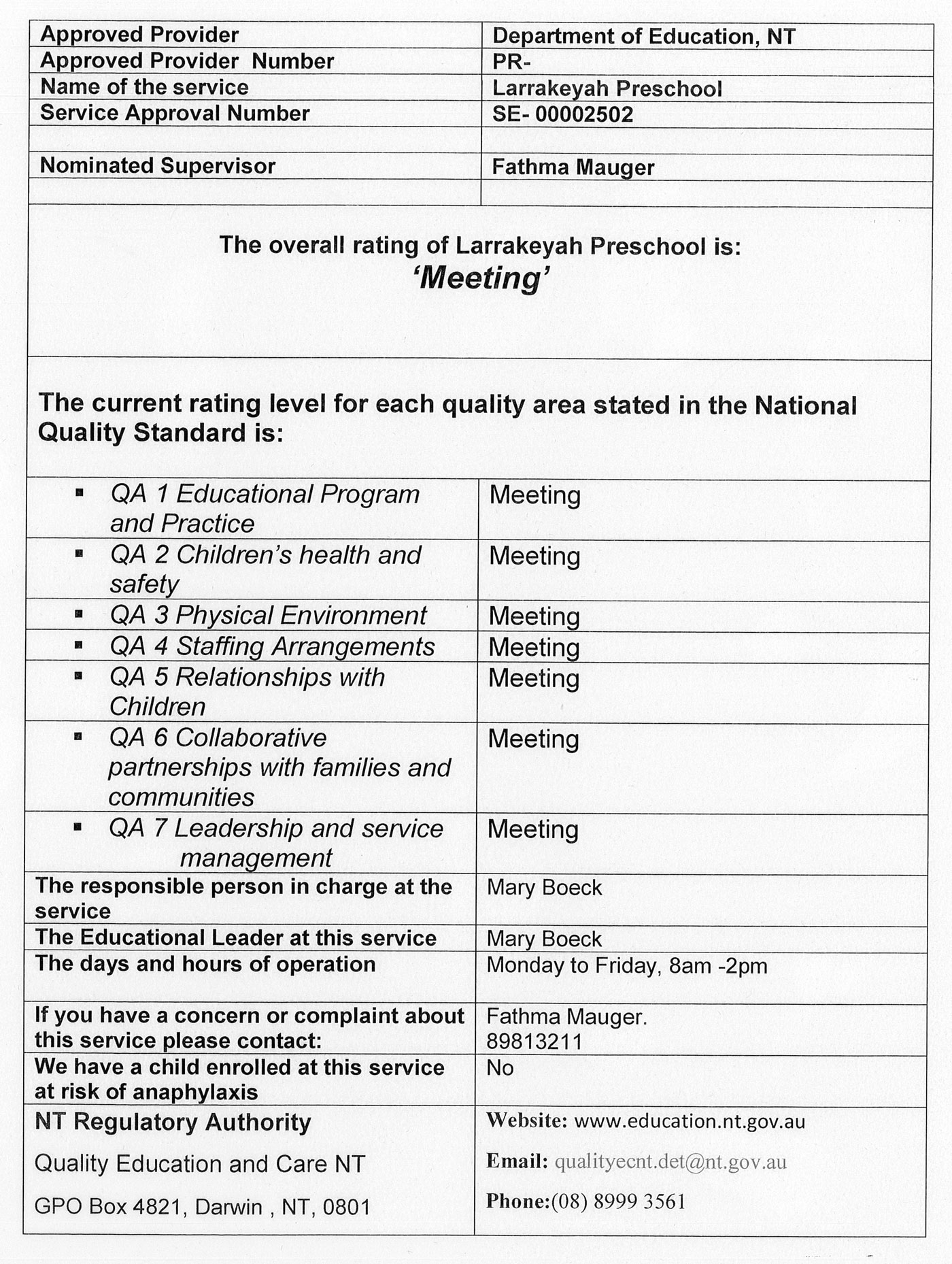 Preschool and OSHC services in the Northern Territory are assessed by Quality Education and Care NT (QECNT), part of the Department of Education. The ratings given for each of the 7 quality areas are:
Excellent
The Service promotes exceptional education and care, demonstrates sector leadership and is committed to continually improving.
Awarded by ACECQA.
Services rated Exceeding National Quality Standard in all quality areas may choose to apply for this rating.
Exceeding National Quality Standard
The Service goes beyond the requirements of the National Quality Standard in at least 4 of the 7 quality areas, with at least two of these being quality areas 1, 5, 6, or 7.
Meeting National Quality Standard
The Service meets the National Quality Standard.
The Service provides quality education and care in all 7 quality areas.
Working Towards National Quality Standard
Services provide a safe education and care program.
There are 1 or more areas identified for improvement.
Significant Improvement Required
The Service does not meet 1 of the 7 quality areas or a section of the legislation and there is an significant risk to the safety, health and wellbeing of children.
The regulatory authority will take immediate action.
Once each of the quality areas are rated an overall rating is provided for the Preschool. For Larrakeyah Primary School this rating was Meeting, which is a very good rating to get. Once the review period has ended, the final ratings are published on the registers of each State and Territory National Registers.
Regulatory authority supplies the approved provider with a draft assessment and rating report. The provider can give feedback on any factual inaccuracies in the report and evidence to support feedback.
---
Mary Boeck, as Head of the Larrakeyah Primary School Preschool, is very familiar with both of these documents and runs programs that follow very closely the ideas and outcomes set out. For those of you with students in Preschool now, or in the past, you will be able to see that the programs and learning activities that happen in Preschool are based on both the EYLF and the NT Preschool Curriculum.
It is very noticeable that students who attend the Preschool and then move on to Transition are at an advantage compared to students who do not attend Preschool before moving to transition. They quickly settle into learning in Transition and are able to adjust quickly to a new social setting.
Unfortunately, with only having the space to accommodate 44 students in the Preschool, there are always children who do not get to attend Preschool. This is why a new Preschool that can take up to 88 students has been incorporated into the Masterplan for Larrakeyah Primary School. Hopefully, at some stage, the current government will allocate much needed funds to get the buildings in this Masterplan built.
If you would like to understand more about either the Early Years Learning Framework or the NT Preschool Curriculum please contact Mr Rick Collister, Assistant Principal for Early Childhood. He will be able to point you in the right direction.