Posted on 22 October, 2020 in School Programs
Larrakeyah Primary School Annual Swimming Program for Term 4, 2020
The Larrakeyah Primary School Swimming Program commenced last week. This is an annual event and provides the opportunity for all students in the school to take part in the Royal Life Saving Swim and Survive program.
The first group of students taking part in the program are in Transition and Year 1. Over a 2 week period they visit the Larrakeyah Base Pool each day (Mon – Thurs) and take part in a 45 minute swimming lesson conducted by qualified swimming and water safety instructors provided by Royal Life Saving NT.
The second program, for students in Years 2 & 3, commences Monday 26th October and the final program, for students in Years 4, 5 and 6, commences on Monday 9th November. The whole program finishes on Thursday 19th November.
About the swimming program
The program that the students are involved in is the Royal Life Saving Swim and Survive Active program. This program is designed for students from 5 – 14 years of age. Swimming skills not only save lives, but provide a foundation for participation in a range of aquatic recreation, fitness and sporting activities.
Swim and Survive Active is a broad and balanced program teaching a range of skills and knowledge to develop swimming, water safety, survival and basic rescue skills. Active encourages children to have a healthy respect for the aquatic environment and the program is aligned to the National Swimming and Water Safety Framework and develops skills across the following areas:
Entries and Exit skills: teach children how to determine the safest entry and exit method for a range of aquatic environments
Floating and Sculling skills: enable children to gain mobility in the aquatic environment. These are vital skills for developing swimming and survival skills.
Movement and Swimming Strokes: develops efficient and effective stroke technique and the ability to adapt to suit the conditions of the environment. Fitness and endurance increases through the progression of levels.
Survival and PFD Skills: includes the teaching of survival techniques and strategies for a range of emergency situations including the use of personal floatation devices
Underwater skills: these assist in building confidence in the water. Relaxation and good breath control are developed to increase swimming endurance.
Rescue Skills: equip children with the required skills to perform a range of rescues depending on the emergency situation, the environment and prevailing conditions.
Water Safety Knowledge: develops an understanding of a range of swimming and water safety issues that underpins safety in and around the water.
This Program has 3 developing awards and 7 core awards to progress through. The initial awards focus on development of foundational skills with the higher awards building on endurance.
Why does Larrakeyah Primary School have a swimming program?
Larrakeyah Primary School has been giving students at the school the opportunity to take part in Royal Life Saving programs for many years and will continue to do so. Australians have a love of the water and this is reflected in our recreational pursuits with millions of people each year visiting beaches, public swimming pools, rivers, lakes and dams to undertake a variety of aquatic activities.
Unfortunately this interaction with water has a down side and every year approximately 300 people drown in Australia.
Water should be a fun and enjoyable environment, especially for children, as it can assist in a child's early physical and intellectual development. The ability to safely enjoy water continues to benefit us at all stages of our lives.
The most important message about children and water safety is to always supervise children at all times around water. It is important that supervision is active (that is close, constant and focused) and performed by a responsible adult. Encourage your child to explore water with you by saying "Let's go together". Parents and carers have a responsibility to teach children appropriate water safety practices. Keep children away from dangerous sources of water and provide a safe place to play.
Drowning is the major cause of preventable death in children under 5 years of age. It can also cause serious and permanent injury. These incidents can be significantly reduced by all of us becoming aware of the potential hazards of water in our everyday lives, and by learning the lifesaving skill of resuscitation. Water awareness is a skill for life!
Water safety and swimming skills are vital
Consider these recent facts:
8 children aged 5-14 years drowned in Australia in 2018/2019
75% of all drowning deaths in this age group were males
Accidental falls into water remain the leading activity prior to drowning among this age group, accounting for 84% of all deaths
Drowning rates increase from the age of 15 years
The location for drowning changes from the home environment in the childhood group (0 to 14 years) to open environments where there are more natural hazards.
Drowning is one of the leading causes of preventable death in children under 5 years of age
A child under 5 years of age drowned on average every week in Australia over the last decade
For every drowning death it is estimated that approximately 3 children are admitted to hospital as a result of an immersion incident. For every 5 children admitted to hospital following immersion, 1 child is left with potentially severe or persisting consequences of drowning (i.e. neurological impairment)
Children who drowned in home swimming pools were predominately residents or invited guests of a relative or friend
The majority of households, in which children under 5 years of age drowned, had fencing which was inadequate, improperly maintained or used improperly (e.g. gate left propped open)
2 out of 3 children who drown are boys
45% of all drowning deaths occur within rural and remote areas while only 25% of the population reside outside the metropolitan area
Aboriginal children drown at a rate two and a half times that of non-Aboriginal children (this occurs mainly in rural and natural waterways)
Children drown all year round unlike other age groups which tend to drown more frequently in summer
Rivers and dams remain little known venues for drowning. For the five years ending June 2007, 295 people drowned in an Australian river and 144 in a lake/dam or lagoon.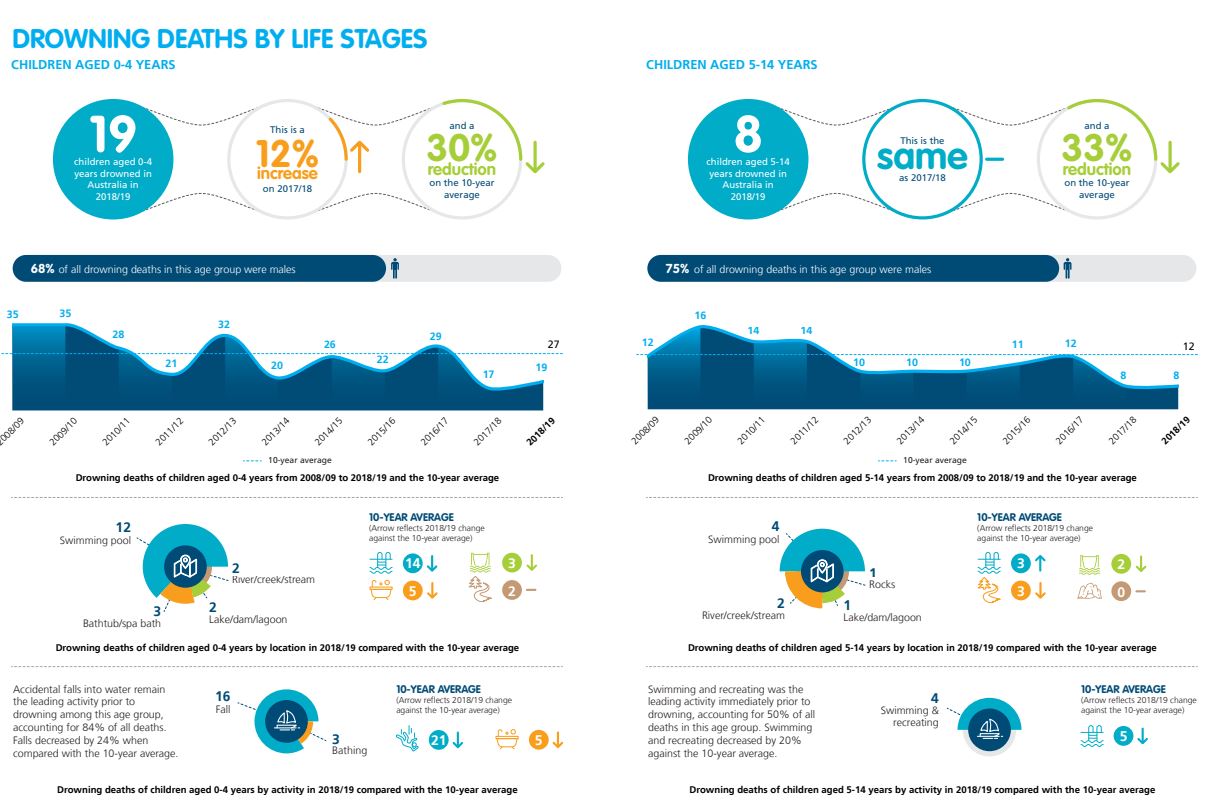 Northern Territory statistics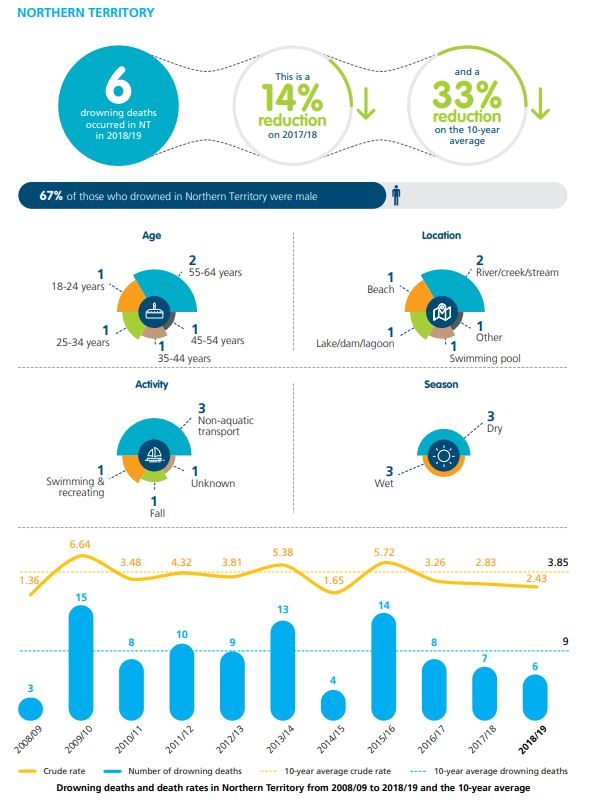 About the swimming venue
We are very fortunate to be able to access the Larrakeyah Base Pool for the swimming program and the facility provides a number of benefits.
This enables us to keep the cost down to a very low figure which basically covers the cost of the instructors.
The students walk to the pool and back without having to use a bus - swimming and walking exercise in the one session.
This is an excellent, well-maintained and staffed facility.
There has always been a very good relationship between the Defence Base and the school and we have worked together well in the past and will continue to do so into the future.
You can find out more about the program on the Royal Life Saving website.