Posted on 24 February, 2022 in Announcements
How Larrakeyah Primary is Responding to COVID-19 in Term 1, 2022
We entered 2022 in a different COVID environment than we left at the end of Term 4, 2021. With COVID now more prevalent in the local Darwin community we are providing an update on how Larrakeyah Primary is responding. As always, our goal is to provide a safe environment for students to reach high levels of achievement. We take the wellbeing of our students, staff, and wider community very seriously and encourage everyone to follow directives and help us follow COVID-19 safe behaviours and practices.
Returning to school
From late January 2022, all year levels of students returned to face-to-face learning under the guidelines and approach delivered by the Department of Education and adhering to current Chief Health Officer directives. COVID safety measures are in place across our school.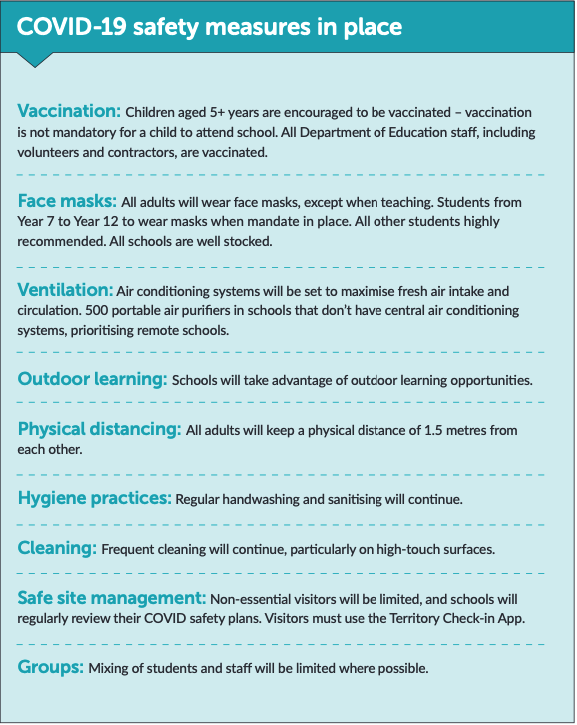 Managing the pandemic requires safety measures and guidelines to be constantly reviewed and they do change over time. It's important to stay up to date through government resources and information provided by the school.
The current return to school plan and preventative measures can be found on the Department of Education website.
Managing COVID-19 cases and learning from home
In line with the directives of the Department of Education we have plans in place to respond to COVID-19 cases at our school.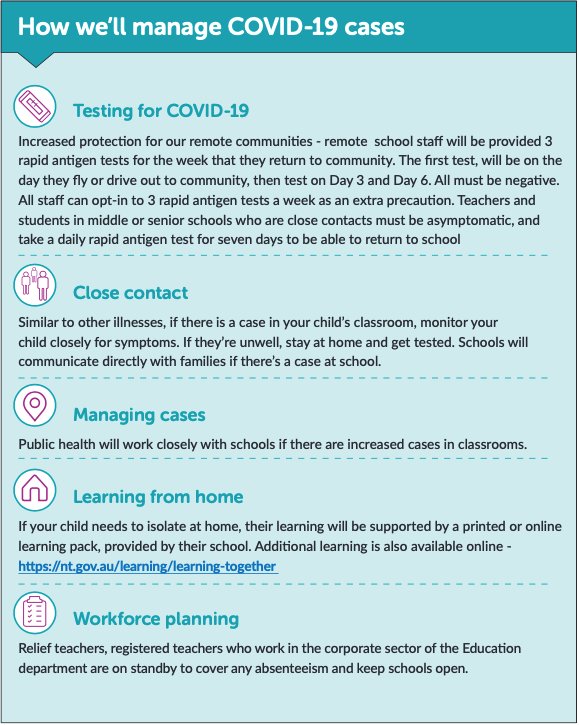 Keeping you informed
Our school leadership team is committed to keeping you informed as guidelines and directives adapt to better manage the current state of the pandemic. We already have in place a strong collection of tools to make that possible.
We encourage you to be diligent and stay informed through updates and notifications.
Depending on the situation we will send:
Our communication strategy is to maximise the reach of important messages and ensure you are provided the most up to date information.
Changes to 3 Way Conferences and Assemblies
Minimising visitors to our school (especially in the first 5 weeks) is a key directive we are strictly following to keep everyone safe. This means a different approach will be taken for 3 Way Conferences and assemblies.
3 Way Conferences in Week 5
Conferences will go ahead. Instead of meeting at the school, all parents will be given the option to discuss their child's progress via phone call or video call.
Assemblies
Assemblies are being video recorded in Term 1 and a password protected link sent home. This will allow parents to watch the assembly over the following week.
Maintaining a safe and strong community
Keeping our school community strong and connected is vital to the high standards we strive for at Larrakeyah Primary School. We will continue to explore and find ways to do that through technology and alternative methods.
It is completely understandable to be nervous about your child attending school. In addition to staying informed, we encourage you to reach out and speak to us if you have questions or concerns.
As well as staying up to day and following safety measures please monitor your child's health.
If your child is well, we look forward to seeing them at school.
If your child is showing any symptoms of illness, please keep them home and arrange for them to be tested.
Supporting families, maintaining high standards, and providing a safe environment are our highest priorities and we must all – students, staff, and parents – participate and work together to achieve that.
For further information on COVID-19 please visit the NT Government COVID-19 website.