Posted on 06 September, 2018 in School Programs
Larrakeyah Primary on a Quest to enhance 21st Century Learning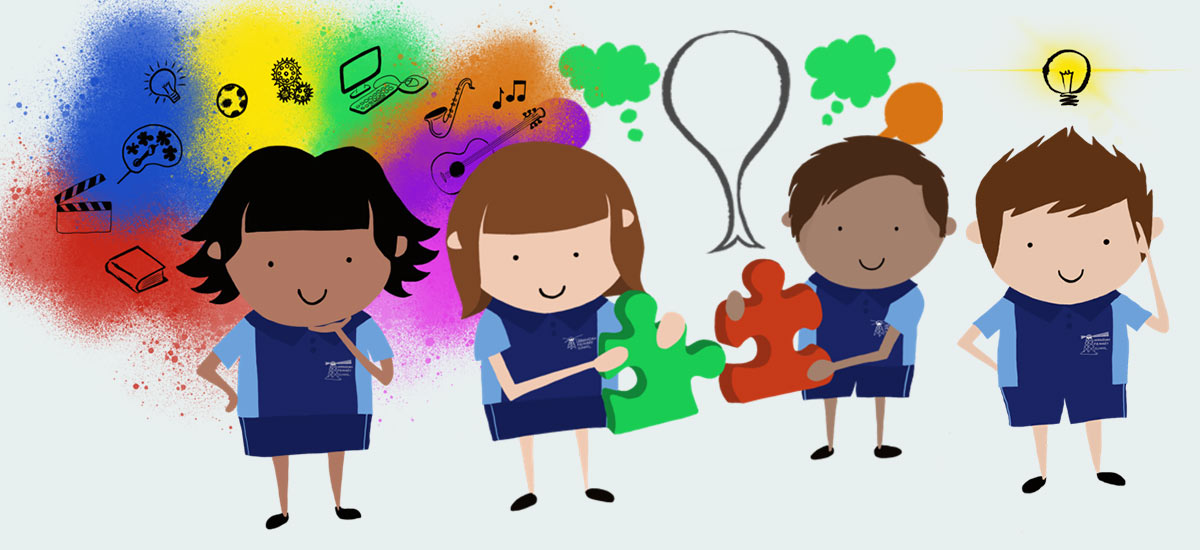 Today's primary school students are digital natives. Digital technology has been readily available to them, and surrounded them, since birth. The ability to support student learning through technology and provide a more robust focus on STEAM (Science, Technology, Engineering, Arts, and Mathematics) is at the core of Larrakeyah Primary's curriculum.
In addition to bringing technology into the classroom, it's important that students learn to use ICT tools to capture new ideas, apply knowledge and skills, and adapt to new challenges. Simply, technology is a tool to enhance student learning – not do it for them.
Developing the 4Cs in 21st Century Learning
Reading, writing, and arithmetic are still central to student learning, but in the 21st Century, they simply aren't enough. New skills are required to prepare students for their middle and secondary school careers, as well as tertiary study, and future job opportunities.
Creativity, Communication, Collaboration, and Critical Thinking form the "4Cs", a new focus to better engage students and prepare them for 21st Century Learning at Larrakeyah Primary School.
Empowering our teachers to deliver 21st Century Learning
Upskilling and development of our teachers are vital to the successful delivery of 21st Century Learning. In addition to bringing in specialised teachers to support our staff, Larrakeyah Primary is investing in empowering teachers.
Bradley King and Kiri Marshall are already heavily involved in the STEAM focus of the school and are undergoing specialist training in China to provide enhanced STEAM programs to students.
Kiri Marshall has also organised and developed the Quest program, which seeks to couple STEAM and 21st Century learning to provide pathways for students transitioning from primary to middle school.
Quest: A Larrakeyah Primary School inquiry-based learning initiative
Developing 21st Century Learning skills is pivotal in providing primary school students with successful pathways to middle school and future subject selection.
The Quest program provides Larrakeyah students with the opportunity to engage in project-based experiences, learn new skills, and apply the 4Cs to new challenges.
In 2018, Year 5 and 6 students participated in a vast range of projects each focused on a particular area of interest. Working with a Project Leader and an industry/community member students followed a learning sequence, incorporating the 4Cs, to explore a specific inquiry question within the chosen field.
Due to the success of the program in 2018, Larrakeyah Primary School is proud to make Quest a whole school program in 2019.
2018 Quest projects
In Term 3, 2018 eight Quest projects were available to students across a wide range of industries and experiences. The Project Leader set the students an inquiry question to pursue, and students were given access to an industry or community member to obtain specific knowledge about the field.
Here are just a few examples of the Quest projects undertaken by students this year.
Beyond the Field
Project Leader: Ms Marschall
Inquiry Question: What are the key factors and influences in an athlete's pursuit of success?
As one of our nation's most popular past times, sport underpins the lives of many young Territorians. In this project, students took themselves as junior sportspeople and delved into the key factors and influences that are involved in the development of a professional athlete considering all physical, mental and administrative factors.
Grand Designs
Project Leader: Mrs Mattiazzo
Inquiry Question: How can I make my dream home a reality?
Students learnt the basics involved in designing a home. Students developed their understanding of the building code requirements of the Northern Territory. Students completed floor plan designs using the program 'Revit' under instruction from a professional draftsperson.
Media in Darwin
Project Leader: Mr Lineham
Inquiry Question: How is news shared? Who or what decides what news and information we receive?
This project provided students with an insight into how local events become news stories in different media (TV, radio and newspapers). Students discovered how an event is reported, edited and presented within the media and developed their understanding of the processes involved in presenting the news.
More on 21st Century Learning
Larrakeyah Primary is committed to STEAM forming a core focus of the school curriculum, to develop unique programs to provide students with success pathways and ensure students are prepared for a future heavily influenced by technology.
For more on 21st Century Learning and the importance of the 4Cs, visit our Programs section and learn about our facilities, competency focus, and the importance of Creativity, Communication, Collaboration, and Critical Thinking.