Posted on 02 April, 2020 in Announcements
COVID-19: Important Information on Larrakeyah Primary School's Response
Since 1st February the school has been sending Coronavirus information home that is distributed from the Department of Education and Department of Health, with additional information from the school. If you are not getting this information please ensure you are checking the website regularly as all information is posted there, signed up to the Skoolbag App and/or receiving the school newsletter through the Larrakeyah Primary School website.
With regards to the Coronavirus, there are a lot of public comments and opinions being put about in the community. The school cannot act on individual opinions. We take the advice provided by the Department and based on current Northern Territory Government advice. We follow the advice carefully and will continue to do so, as the situation evolves.
The school has implemented a number of measures to protect students and staff at school. These have included:
Intensifying cleaning routines with increased cleaning across the school, during the day and after school. Extra cleaners are cleaning high touch areas in the school during school time.
Regular hand washing built into daily routines, provision of an extra hand washing station outside rooms 17 & 18 for student and parental use
Providing disinfectant in classrooms to wipe down high touch areas regularly during the day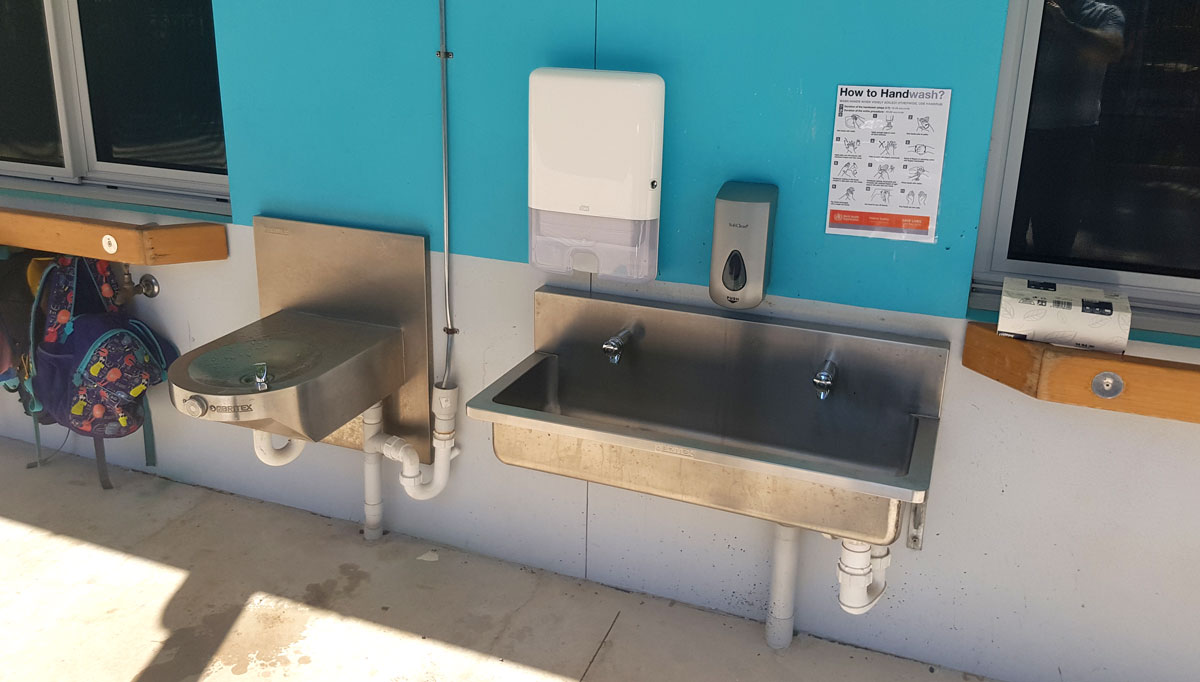 Teachers reminding students of cough/sneeze etiquette
Teachers reminding students to limit physical contact i.e. no holding hands or touching each other
Conducting risk assessments for school activities
Cancellation of large group and communal activities such as assemblies, camps, excursions and the ECA program.
No sharing of food, including food provided by parents for the class i.e. birthday cakes
No involvement in NT School Sport competitions.
Limiting the number of visitors in the front office, providing sanitiser for adult use and disinfecting counter and benches regularly during the day
Disinfecting playground equipment and benches in the morning, after recess and after lunch.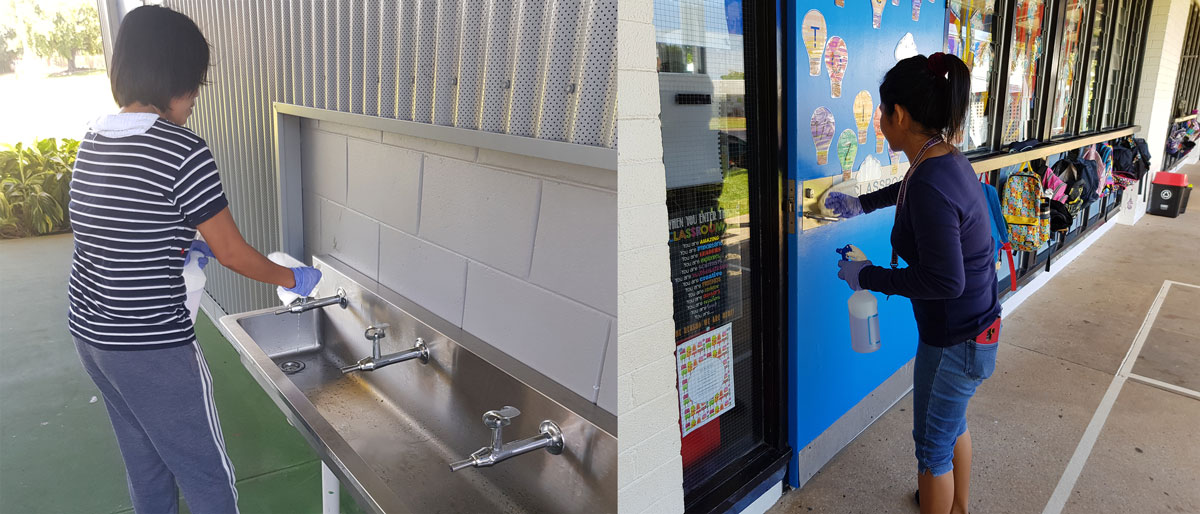 Social Distancing
Social distancing plays a great part in the control of COVID-19. The Australian Government has exempted schools from the restrictions due to practical limitations. As a safety measure, now that over 50% of our students are at home, we are implementing distancing in our classrooms as much as space allows us to do so.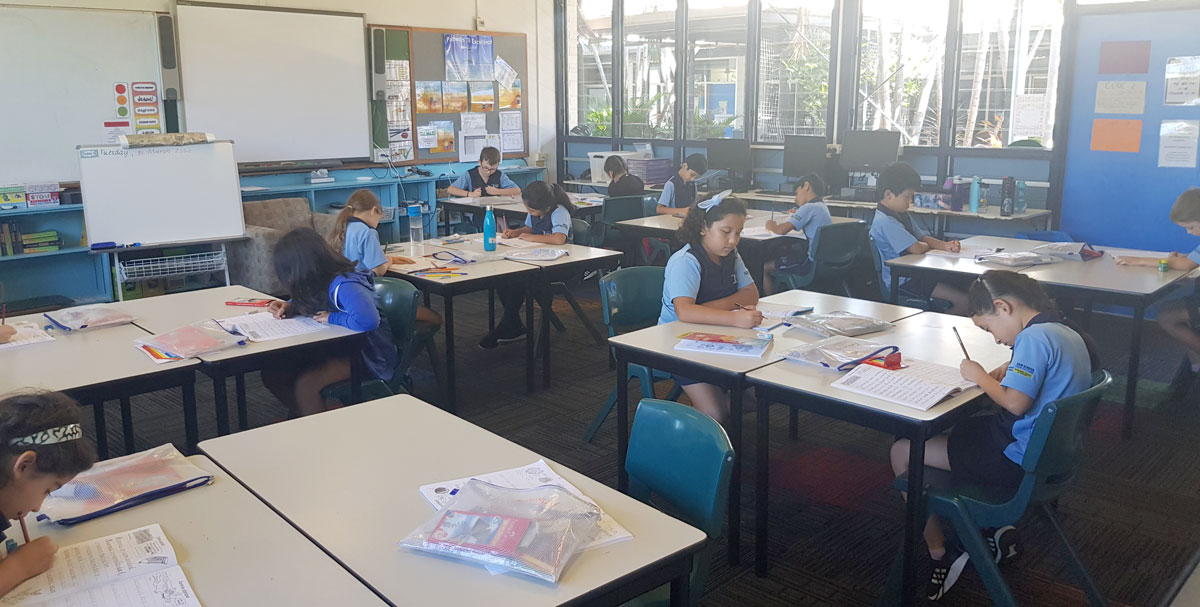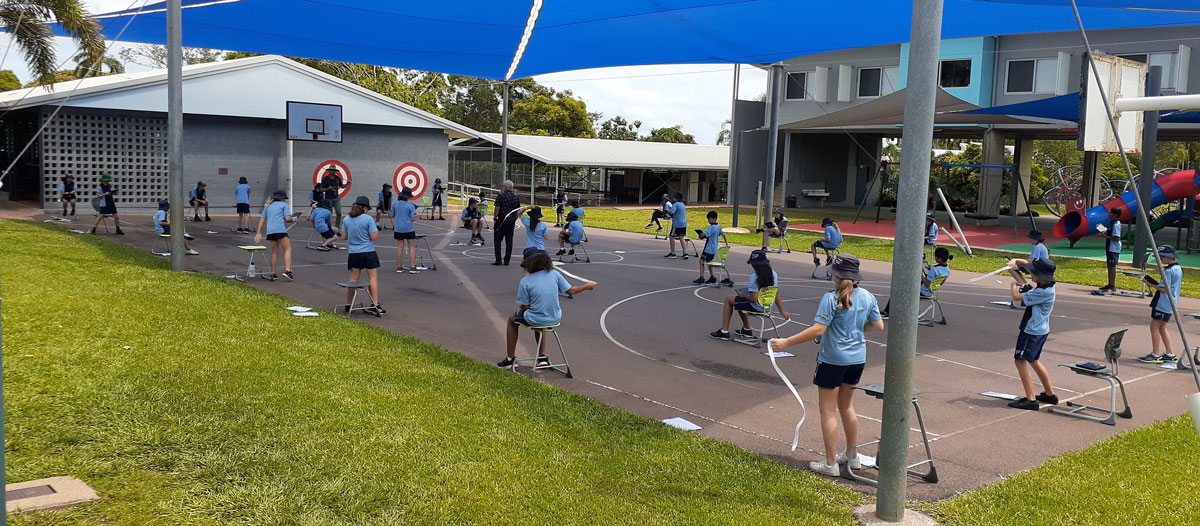 The school has been getting organised for some time for e-Learning. We have established a detailed plan for the delivery of lessons in the event of a school closure, or wide-scale absence for students. Staff have been working extremely hard to ensure that work online is aligned to the curriculum and teaching programs so that there is a continuity of curriculum delivery for students. Please continue reading to see an outline of what is planned for the e-Learning
Staff in schools are essential, front-line workers. Thank you for the support we have received from the school community over the past month. The supportive comments and emails that have acknowledged the work of the school and staff have been appreciated.
eLearning Procedure
Note: Please bear in mind this is a proposal and the final Plan will depend on exactly what school/teaching operational requirements the Department of Education determines we will follow for Term 2.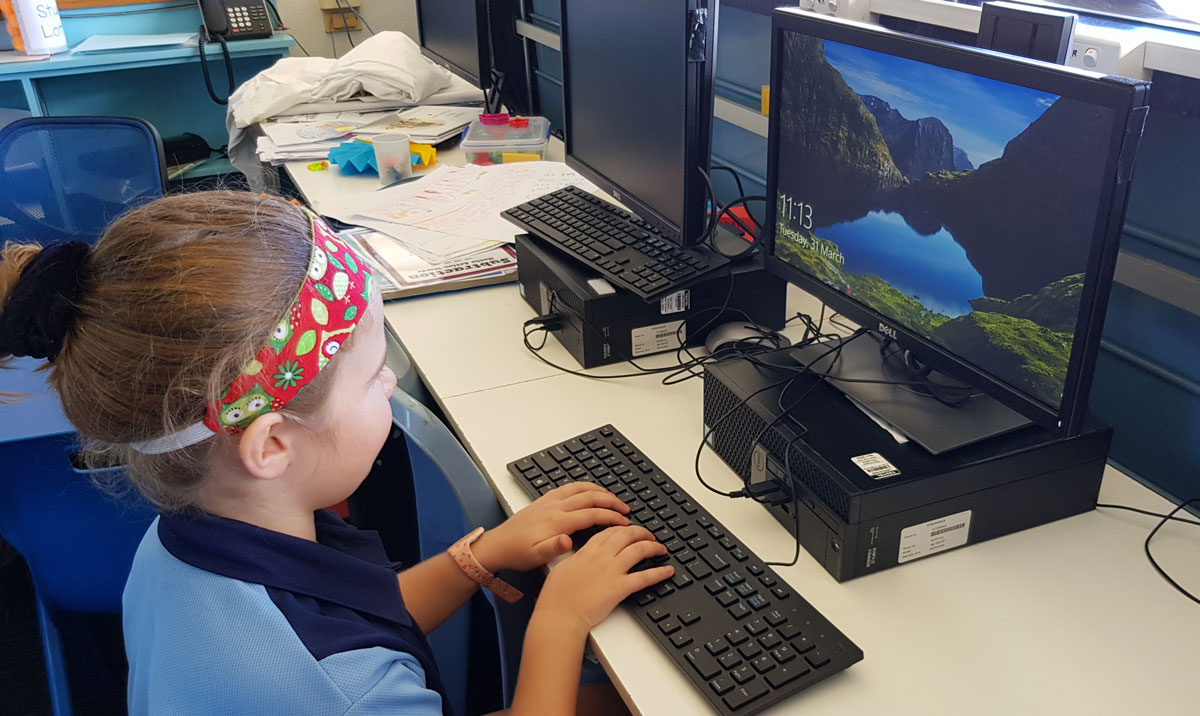 As a 21st Century Learning School, we have the capability to continue the learning across time and space through online platforms and current subscriptions, blended with current hardcopy materials in use in classrooms. In order to not lose valuable teaching time and retention of current knowledge we strongly encourage parents to support their children with their e-Learning. Larrakeyah Primary School's official platform for online learning will be Seesaw (requirements for using the Seesaw platform are outlined further on). Communication via email will also be used as needed to support students and parents.
The alternative option for families without access to technology will be hardcopy materials with a sufficient amount of work supplied (up to two weeks). After two weeks, families will need to contact the child's teacher via email to request additional work. In addition, the Department of Education has provided booklets of work for all students.
The goal of e-Learning is to ensure learning continues in the event of school closure. The intent is to carry on learning, but not necessarily replicate a traditional school day, as per the timetable. Students should be able to independently extend their learning with the direction of the teacher and the support of their parent/s.
Teaching staff will be facilitating their own Seesaw classroom by:
Checking attendance and contacting families with students that are not completing activities
Logging into Seesaw twice a day – morning, preferably 8:30am and afternoon, preferably 2:00pm
Posting activities, responding to student's work and providing feedback
Checking emails and responding to questions
Where possible, online video conferencing tools such as Zoom will be used to provide opportunities for small-group support and will serve as a way to further connect with students.
About Seesaw
The move to e-learning is very exciting but it may be a source of worry and anxiety for parents if you don't know what it is about. Please contact the school and your child's teacher if you are unsure and would like to know more.
It is important that all families are on Seesaw prior to possible school closure occurring. The following tasks will have been completed by the Seesaw Coordinator in order for all students to access the e-Learning suite via Seesaw from remote locations:
Setting Up Remote Access for Students
Student codes are generated by Seesaw and are unique to each student and ensure that students cannot access each other's journals or work.
Setting Up Students and Families for Remote Learning
The following will have been shared with students and families:
Home login codes
'Log in at Home' video
'How to Use Seesaw' video playlist
Family one pager
Larrakeyah Primary School's e-Learning plan
Additional Resources
The following resources are whole school programs supported by Larrakeyah Primary School through subscriptions and established student access. These are used in conjunction with Seesaw and allocated as additional activities or integrated into the Daily Schedule planning.
Tasks and activities will be allocated daily based on the student's levels, current engagement with the resource and the teacher's program
Students can complete tasks, screenshot completed work, and post to Seesaw
Teachers have the ability to check, mark and provide feedback on all work completed via Seesaw
Students will use current login details to access from home
Scholastic Learning Zone - LiteracyPro
Outside School Hours Care
OSHC will be continuing to function as per normal for the remainder of this week (Wk 10). Next week (Wk11) when the school is open for 4 days and teachers will be engaging in Professional Development, OSHC will function normally from 3:00pm – 5:45pm. As the school will only be open for children of essential services workers and for vulnerable children we expect the numbers will be lower than normal but programs will continue to run during OSHC. During the holiday break (April 14 – 17) OSHC will be running Vacation Care. This will be open for all students who have enrolled for the program.
In the event that parents have cancelled the enrolment of their child/ren in OSHC or Vacation Care please be aware that there will not be cancellation fees applied.
OSHC, as a school run program, follows the same policies and procedures that Larrakeyah Primary School does. Therefore the steps OSHC is undertaking and requiring of staff and students are in line with current advice, and accommodate the position of the NT Education Department and the Health Department.
Thank You to the Larrakeyah School Community
Many thanks to all the parents who have taken the time to speak to their children's teachers expressing their support for the work the teachers and the school is doing in this very difficult and challenging time. The teachers have appreciated the comments from parents and the simple things like being asked "How are you going?" This is a stressful time for all members of the school community and we need to work together to ensure that the children continue to be looked after and educated as well as we can considering the circumstance. Together we will make this work and come out stronger at the end.