Posted on 14 May, 2020 in School Programs
An Independent Public School and a Cambridge Primary School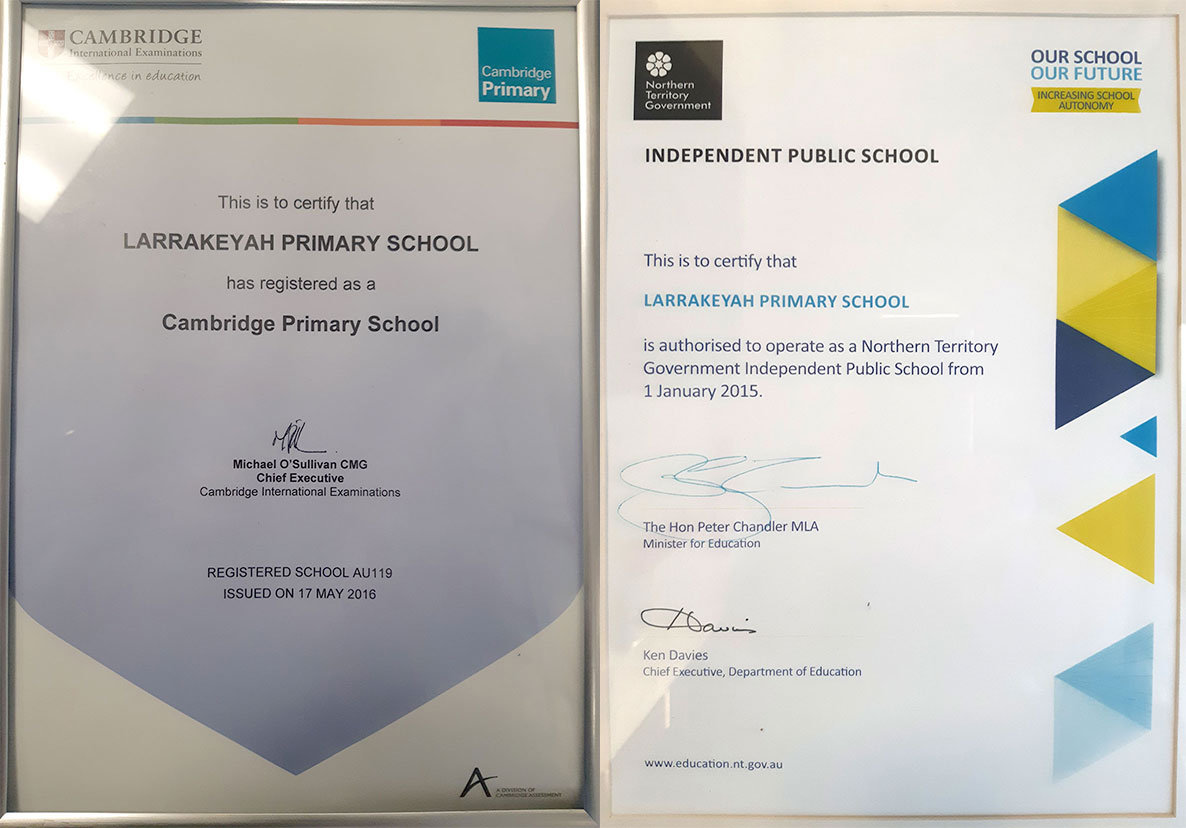 Becoming an Independent Public School in 2014 has opened many opportunities to improve our already successful school. Since then, with the support of the NT Department of Education, our school leadership has developed the culture and direction of Larrakeyah Primary to provide students with greater opportunities to improve their educational outcomes and develop their social and emotional well-being. Over the last 7 years, we have developed:
New Programs
Mandarin
the Extra Curricular Activity Program
Writing Workshops
Quest
STEAM
Partnerships
Excelsior International School (Malaysia) as a Sister School
Gems International Academy (Singapore) and Shekou International School (China) for technology and innovation
Darwin Middle School to help students successfully transition from primary school
CDU Confucius Institute and Darwin Language Centre to develop Chinese language and culture
New Teaching Methods
Visible Learning
21st Century Learning
Writing 6+1 Traits
Becoming a Cambridge Primary School
One of the biggest changes was deciding to become a Cambridge Primary School. This decision was made as a result of a great deal of research and visits to leading Cambridge schools in New Zealand (ACG Strathallen and Pinehurst School).
What is a Cambridge School?
A Cambridge school is part of a global community of over 10,000 schools, across 160 countries. Cambridge International actively supports these schools and their teachers by creating and providing:
Curriculum in a variety of subjects – English, Mathematics, Science, ESL, Art & Design, Digital Literacy, Music, Physical Education and Cambridge Global perspectives
Resources to teach the curriculum
Schemes of work with relevant lesson plans
Progression tests for Stages (Years) 3 – 6
The Cambridge Checkpoint Test administered in Year 6
Cambridge International is committed, like Larrakeyah Primary School, to helping students achieve the best outcomes for their students.
Why did Larrakeyah Primary school choose to become a Cambridge School?
There are a number of reasons why this decision was made:
The Cambridge Curriculum aligns very closely with the Australian curriculum. Our Head of Curriculum, Danni Mattiazzo, has created curriculum documents that allow teachers to easily develop programs and prepare lessons for students covering all relevant areas.
As an NT Government school, Larrakeyah Primary school is committed to using the Australian Curriculum. If students move schools they will know that they're up to date and reports, results and assessments will be relevant. Being a Cambridge School also offers the same for students who come to Larrakeyah from overseas. Parents know their child's Cambridge qualifications are globally recognised, accepted by schools, universities and employers at home and around the world. All universities under the Universities Australia umbrella recognise Cambridge qualifications, including those from the Group of Eight coalition of top universities.
The Larrakeyah Primary Mission statement is "We instil life-long learning through high standards, high expectations and high achievement" and our Values are Responsibility, Achievement and Respect. We aim to run programs to develop the whole child. A Cambridge education also prepares students for life, helping them develop an informed curiosity and a lasting passion for learning. We are able to shape the Cambridge curriculum around how we want the students to learn, helping them discover new abilities and a wider world.
As the only government Cambridge School in the Northern Territory and one of 19 in Australia we are able to tap into a wealth of resources and support to help improve the education our students receive.
Do teachers teach the Cambridge Curriculum?
Yes, every teacher in the school teaches the Cambridge curriculum for Mathematics, English, parts of Science and ICT – where they can. We have also introduced an EAL/D (English as Another Language or Dialect) program in Early Childhood based on the Cambridge English as a Second Language curriculum. Transition Teachers expose their learners to the Stage 1 Curriculum which is equivalent to Year 1. Physical Education and The Arts do not plan on using the Cambridge curriculum in their programs at this stage but they may in the future.
The Cambridge Curriculum allows us to build on the Australian Curriculum, access resources, and support our teachers to deliver better outcomes for our students.