Posted on 24 April, 2019
Visible Learning- 4 Matthews
Unit Goal: To design and implement a better whole school system of recycling with the aim of reducing landfill waste by 50% by the end of 2019.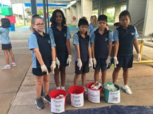 Learning Intention:
Students will be able to sort recyclables and waste materials into categories.
Students will be able to estimate total consumption of each material within the school.
Success Criteria:
Students can recall which items can be recycled through their local council (aluminium and tin, paper and cardboard, firm plastics and glass).
Students are aware that food scraps can be composted.
Students can explain why green waste should be separated from landfill.
Students can find the mass of recyclables, green waste, compost and landfill in the classroom.
Students can use the data from their class waste to predict totals for the school.
In lesson 1, students participated in an audit of school waste from the bins that is intended for land fill. They discovered that 80% of all waste could have been recycled and of that 80% the largest category of waste was food waste. Students found untouched items of fruit and sandwiches and were shocked at the amount of food wastage. Year 4 students collaborated to devise a new recycling system to reduce the amount of landfill which they presented to our school community at assembly in week 9.
Each classroom has been provided with a container for food waste which is then recycled and reused as compost. Our motto is REDUCE, REUSE, RE-CYCLE.
After one week, students participated in a second audit to discover that the overall amount of landfill has reduced. There is still a significant amount of food waste being put into the landfill bin. We will need to work harder as a School Community to achieve our goal to reduce landfill by 50% by the end of the year. We can do it!