Posted on 25 September, 2019 in School Programs, Events
Tournament of Minds: Larrakeyah Legends Win 2019 NT Regional Finals
Larrakeyah Primary has a proud history of competing in the Tournament of Minds (ToMs). Each year, we enter teams of students into one or more tournament categories; Social Sciences, Language Literature, and STEM.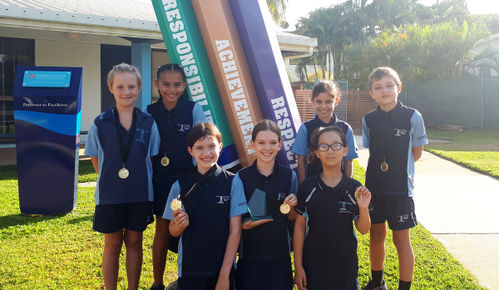 This year, we are proud to announce that our team "Larrakeyah Legends" won the primary school division of the Language Literature category in the NT Regional Finals. The team – Georgia Hunt, Zara Crossman, Despina Makrynaki, Alice Zhao, Marlee Smallridge, Max Wild and Harper Nottle – will now advance to competing in the ToMs International Finals in Tasmania in October 2019.
What is Tournament of Minds?
The tournament aims to enhance the potential of young people through skill development, enterprise, time management, and learning to work together in a competitive environment.
Primary and secondary student teams from participating schools compete with each other to solve demanding, open-ended challenges that test their ability to think creatively, collaborate together, and demonstrate their skills and talents.
Aligned with 21st Century Learning
Larrakeyah Primary is focused on providing students every opportunity to develop the skills and competencies that will benefit them as they progress through their schooling and into the workforce. In addition to reading, writing, and arithmetic our learning program aims to develop:
Critical thinking and problem solving
Communication and understanding
Collaboration and teamwork
Creativity and out-of-the-box thinking
Participating in ToMs directly aligns with 21st Century Learning as the competition process provides a platform for developing similar real world benefits. The objectives of the tournament include:
Provide the stimulation of real, open-ended challenges
Develop creative problem solving approaches and techniques
Foster cooperative learning and teamwork
Promote knowledge and appreciation of self and others
Encourage experimentation and risk taking
Expand and reward creative and divergent thinking
Stimulate a spirit of inquiry and a love of learning
Develop enterprise
Celebrate excellence
Tournament of Minds International Finals 2019
In October 2019, the ToMs International Finals will be held in Hobart with teams from across the world attending to compete in rigorous challenges. We wish the Larrakeyah Legends the best of luck in representing the Northern Territory at the tournament.