Posted on 01 August, 2019 in School Programs
Shenzhen Students Visit Larrakeyah Primary School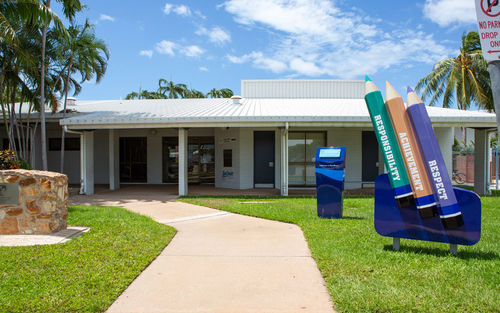 We understand the need to prepare students for success in a global economy, where the ability to work across international borders and cultures will open doors for growth and employment during their careers.
Through our Chinese Language Program, visiting teachers, and collaborations with international schools we continuously strive to provide opportunities for students to interact with other cultures around the world. Part of this initiative is introducing international students to our culture, city, and lifestyle here in Darwin.
In August 2019, Larrakeyah Primary will host 19 primary school students visiting from Shenzhen, China. Visiting students will be accommodated by families from the school community, and spend time touring Darwin and the surrounds, getting immersed in Australian culture and participating in class activities.
We'd like to take this opportunity to thank the families who have welcomed a visiting student into their home.
We're excited to present this chance for our students to interact and form friendships with international students, practice their Chinese with native speakers, and discover their commonalities and differences.
Tour activities and school participation
Our first tour group from Shenzhen will arrive on Sunday, 4 August, and be greeted with an introductory lunch. We'd like to thank the Honourable Paul Kirby and the Darwin City Council for supporting us in making our guests feel welcomed.
Throughout their week long stay, visiting students will participate in tourism and other prearranged activities to showcase the sights and sounds of the Greater Darwin Area. Students will also spend a full day participating in school activities at Larrakeyah Primary, including:
Mathematics, English and HASS (Humanities and Social Sciences)
Physical Education; learning Australian Rules Football
The Arts; painting and drawing from an Australian aboriginal perspective
Building international school relationships
In addition to the shared cultural benefits, this visit creates additional opportunities for our school in program development and teacher development.
Later this year, a delegation of staff will visit schools in the Shenzhen area to learn about their school environment and programs, with a particular focus on how international schools approach STEAM learning.