Posted on 18 April, 2019 in School Programs
Setting Our STEAM Foundation For The Future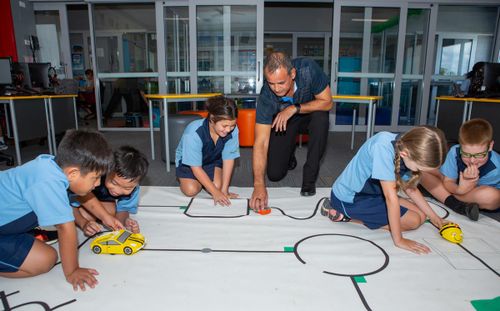 STEAM is a vital part of Larrakeyah Primary's curriculum and our commitment to 21st Century Learning.
This year Mr Brad King, Senior Teacher at Larrakeyah Primary, has been appointed as the school's STEAM Coordinator - a new role within the school.
Mr King will spearhead Larrakeyah's STEAM program. Establishing, developing, and continuously improving how Science, Technology, Engineering, Arts, and Maths are integrated into every area of learning at our school.
During the term Mr King, accompanied by other delegates from Larrakeyah Primary, visited schools in Singapore and Melbourne to observe leading innovations and best practice in integrating and implementing STEAM into different school environments.
We visited GEMS World Academy, Excelsior International School and The Canadian International School in Singapore, as well as Wooranna Park Primary School and Hazel Glen College in Melbourne.
We'd like to thank these leading schools for allowing our team valuable insight into the creation and execution of effective STEAM programs.
In traveling to other schools we are able to inform, shape and clarify the vision for our school, our culture, and develop strategies to give our students the best possible chance to achieve excellence.
The outcomes of these visits has been fruitful, with new ideas already beginning to be introduced and adapted to fit our school's context.
Outcomes of touring schools in Singapore and Melbourne
Combining the right learning spaces, pedagogy, and technology with the 4C's approach (Creativity, Communication, Collaboration, Critical Thinking) of 21st Century Learning is fundamental to creating an effective STEAM program at our school.
STEAM must be integrated into all areas of learning, rather than treated as a separate subject. Creating learning environments through physical spaces and pedagogy that encourages students to engage in problem solving, relevant to what they're learning, is key to integrating STEAM into the classroom.
The use of technology is synonymous with STEAM; however, best practice shows that technology should play a supporting role as part of providing students with authentic, true learning, and real life problem solving opportunities.
Speaking on his observations at Wooranna Park Primary School in Melbourne, Mr King said:
"The visit to Wooranna Park helped us to identify what was required to create a 21 st century learning environment. They have a whole school pedagogy based on Autonomous Learners, where students have the ability to work independently and select what they will be learning based on their level of development. Wooranna Park supports this pedagogy by creating a number of exciting and creative learning spaces for their students. These learning spaces are purpose built and all students are aware of the expectations."
Whole School Curriculum Map, Spaces, and Flexible Learning
Based on our observations in Singapore and Melbourne a Whole School Curriculum Map is currently in development. That map will direct how STEAM problem solving opportunities, supportive technology, and industry insights can be integrated throughout the Larrakeyah Primary curriculum.
Maker-Spaces are also being created at the school to facilitate creativity and problem solving opportunities and flexible learning environments are being considered based on observations of the Wooranna Park Primary School model.
In reflecting on the trips to Singapore and Melbourne and looking at the future of STEAM at Larrakeyah Primary, Mr King said:
"STEAM at Larrakeyah Primary School will be integrated to the everyday learning of the students and will be in the forefront of all teachers minds when planning and delivering their lessons. As STEAM Coordinator I will be responsible for supporting them in the planning and delivery of their STEAM programs, expanding their ideas and developing problem solving opportunities for the students."