Posted on 14 August, 2019 in School Programs
Science Week and Book Week at Larrakeyah Primary School
It's August and that means we are celebrating two important weeks here at Larrakeyah Primary School. Right now, we're in the middle of National Science Week which runs from 10 - 18 August and are looking forward to Book Week from 17 - 23 August 2019.
About National Science Week
This year, National Science Week is taking us back to space and the moon. In schools, the theme "Destination Moon: More Missions, More Science" aims to inspire students about space just as the Apollo program did for an entire generation during the 1960s and 1970s.
As part of our STEAM focus, we are always looking to provide opportunities for students to engage in creative problem solving. The good folks at National Science Week have supplied a number of resources and activities for our students to explore.
During the week, each class will devise a STEAM based activity to share with other classes. Students will participate in a 2 hour "expo" where they can visit other class's activities across a range of STEAM topics.
National Science Week exemplifies the creative processes at the heart of STEAM, understanding the different roles of STEAM from design through to innovation, and how STEAM is influencing the development of growing industries such as space research.
It really is never too early to science!
Find out more about National Science Week at the official website.
About Book Week
Book Week is an initiative by The Children's Book Council of Australia (CBCA). It's an opportunity to celebrate Australian children's literature and encourage students to engage and share books, stories, and characters.
This year, the official Book Week theme is "Reading is my Secret Power".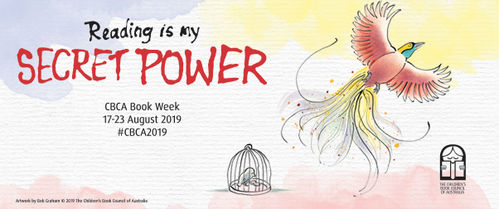 Celebrations are happening around the country, and we're joining in the fun at Larrakeyah Primary School.
Throughout the week at lunch time, a pop-up library will be running in the playground where students can select and read books outdoors. We will also be running a book exchange, where students can find a range of books across a variety of topics and reading levels. We encourage all students to bring in and swap books.
Our students will also have the opportunity to enter a competition by writing reviews for their favourite books.
On Friday, 23 August students are invited to come to school dressed as their favourite book character. We'll be hosting a shared lunch with foods from different stories.
The CBCA is doing a great job of featuring activities from around Australia on their Facebook Page, including school celebrations, events, and featured Australian books.