Posted on 21 November, 2018 in School Programs
Learning Mandarin: Clear Benefits to Student Development and Career Opportunities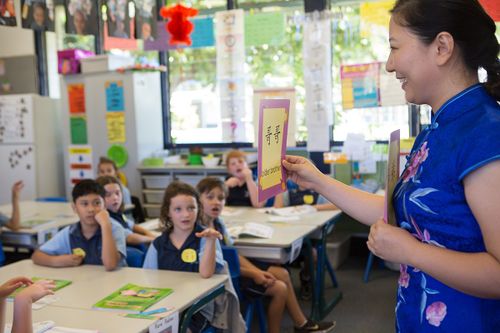 Many adults today wish they'd picked up a second language more completely during their childhood and early schooling years. Learning a second language is an enriching experience that not only has deep learning benefits but also opens doors for future career development as student's complete their schooling.
Our students, including all year levels from 2 to 6, receive Chinese lessons in Mandarin as Larrakeyah Primary School's second language of choice.
Bilingual benefits beyond language
Learning a second language has been shown to aid in childhood development and even improve performance in other areas of learning.
Bilingual children tend to:
Be better at focusing on tasks, particularly those that require multitasking.
Do better in tests on core subjects such as English and Maths.
Have better native language skills.
Start reading earlier.
Have a stronger understanding of grammar.
Be more empathetic and display more consideration for other people's perspectives.
Show improved musical talents in identifying different pitches.
Show greater ingenuity and creative thinking.
Why learn Mandarin?
Mandarin, a form of Chinese, is the world's most widely spoken language with an estimated 1.2 billion native speakers both within China and internationally.
The 2016 Australian Census indicates that, after English, Mandarin is the most commonly spoken language at home with approximately 600,000 Australians reporting Mandarin as their primary language. Census data also indicates that 1 in 5 Australians now speaks a language other than English at home.
Both locally in Darwin and interstate the melting pot of cultures and diverse backgrounds within Australia means language is now an important part of providing a holistic education to students.
Creating employment opportunities
Modern jobs are becoming increasingly international and multifaceted with international trade and global commerce on the rise. As companies look to compete and succeed overseas the preference for employees who are multilingual and able to operate successfully in other cultures is only expected to increase in the next decade.
China is the world's second-largest market and Australia's biggest trading partner. The free trade agreement between China and Australia means employment opportunities for students entering the workforce, who speak Mandarin and understand Chinese culture, are likely to be greatly improved.
Larrakeyah Primary partners with the Confucius Institute at Charles Darwin University
The CDU Confucius Institute is a joint program supported by the Government and the People's Republic of China to strengthen education and cooperation between Australia and China.
Larrakeyah Primary School's partnership with the CDU Confucius Institute provides student's with access to broader experiences that help them not only learn Mandarin but also understand Chinese culture
---
Chinese education pathways through our partner schools
Larrakeyah Primary School is proud of the partnerships we have forged with Darwin Middle School and Darwin High School, providing students with a cohesive pathway beyond their primary education.
Both Darwin Middle School and Darwin High School offer Chinese learning programs, allowing students to continue their Chinese language development from year 2 all the way through year 1
---
Explore Larrakeyah Primary Schools Chinese Language Program
Our Chinese program page provides further information and interesting facts about the benefits of learning Chinese, the Chinese economy, and the benefits of investing in learning Chinese.