Posted on 06 March, 2019 in School Programs
Larrakeyah Primary Expands Chinese Learning Program: Welcome Ms Yunjing Peng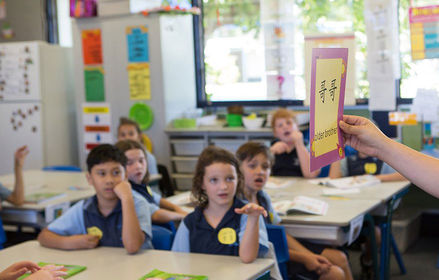 Learning to work, engage, and communicate with people from other parts of the world is a pivotal skill for students to adopt early, and continue throughout their education and into the workplace.
In terms of both imports and exports, China is Australia's largest trading partner. Chinese companies are also looking internationally for talented workers and opportunities to expand their enterprise.
Locally in the Northern Territory, attracting tourists from China is already a focus with the China Market Activation Plan aiming to attract 30,000 Chinese tourists by the year 2020.
When today's primary school aged students begin to enter the workforce, their ability to work and communicate effectively with Chinese colleagues, customers, and community is likely to be a boon to their careers.
Larrakeyah Primary School has a well-established Chinese Learning Program that aims to not only teach students language skills but also help students navigate Chinese culture and customs.
Welcome Ms Peng, Associate Teacher
Enhancing our Chinese program this year, we are pleased to welcome Associate Teacher Ms Yunjing Peng to the Larrakeyah teaching team. Ms Peng is a postgraduate of Anhui Normal University in the People's Republic of China.
Ms Peng is part of a delegation of four teachers who are being assigned to different NT schools to enhance Chinese programs across the Territory.
During her year with Larrakeyah Primary School, Ms Peng will deliver quality Chinese language and culture teaching to students and professional development learning for Larrakeyah staff.
Taking learning beyond language
Ms Peng will introduce our Transition and Preschool students to the Chinese language and teach Year 3-6 students more about Chinese culture.
Her first-hand perspective and knowledge will provide Larrakeyah Primary students and teachers unprecedented insights and learning opportunities.
Engaging the community
In 2019, we also look forward to developing new pathways, with input from Ms Peng and our partnership with the Confucius Institute at CDU, to enhance our Chinese program further through engaging the wider Chinese community in Darwin.