Posted on 30 May, 2019 in School Programs, Events
Larrakeyah Primary Entering RoboCup Junior NT in 2019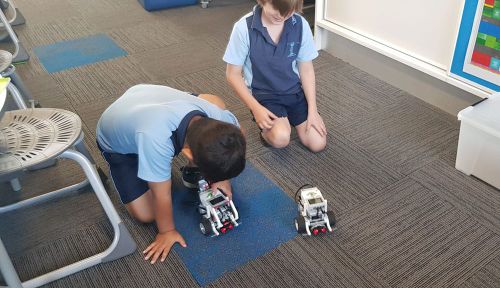 STEAM and 21st Century Learning are core aspects of our school curriculum. As we reported last term, best practices in STEAM learning include providing students with opportunities to engage in problem solving using supporting technologies.
This year, we will be entering teams into the 2019 RoboCup Junior NT Titles, a robotics competition in which teams use coding and programming skills to compete in challenges.
Team trials were held earlier this month for teams entering into the "On Stage (Dance)" and "Rescue" sections of the RoboCup Junior competition.
We're delighted to announce our teams:
On Stage (Dance) team
Nokthor Tiprua
Felix Wagnon
Noah Grosser
Robyn Tutty
Rescue team
Diala Oghl
Yuin Mui Ho
Eli Tyrrell
Our teams will be undergoing training throughout the year to prepare them for the competition in September 2019.
What is RoboCup Junior?
The focus of RoboCup Junior is to promote education in robotics and artificial intelligence for young students. The challenges provide a standard problem that teams can solve using a wide range of technologies. In addition to encompassing STEAM skills, participation in RoboCup Junior also develops social skills, sportsmanship and teamwork.
RoboCup Junior now hosts competitions in every state and territory across Australia, and is played across 30 countries internationally.
The project-oriented problem solving opportunities presented by RoboCup Junior aligns with best practices in STEAM education, giving students the freedom to investigate, learn, and develop unique approaches and solutions using emerging technologies.
About the challenges
This year, Larrakeyah Primary will enter teams in the "On Stage (Dance)" and "Rescue" challenges.
On Stage (Dance)
This challenge is all about achieving creative expression through programming. Teams design, build, and program their robots to dance to music. Competitors are encouraged to tackle the challenge in their own way, and find unique and creative ways to enhance the performance through personality, interactivity and storytelling.
Rescue
Teams must program their robot to navigate a winding path and overcome obstacles to reach a rescue area. Once there, they must find and move "the victim" out of danger to safety.
Conclusion
RoboCup Junior NT Titles are a real opportunity for students to explore and participate in real world challenges using technology. We look forward to bringing you updates on the progress and training of our teams as they prepare for the competition to be held at Dripstone Middle School on Sunday 22nd September 2019.