Posted on 28 August, 2019 in School Programs
International Study Tour 2019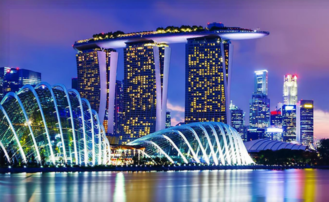 In September this year, a group of Larrakeyah Primary students will participate in our fourth International Study Tour. Visiting Singapore and Malaysia, our Year 6 students, accompanied by Larrakeyah Primary staff, will embark on a tour to experience the culture, technology, and environment of Singapore and visit our sister school, Excelsior International School, in Malaysia.
About the tour
Our students will spend five days touring different attractions and centres throughout Singapore and Johor Bahru, Malaysia. This is a unique opportunity for them to get to know the culture, customs, heritage, food, people and environment of our South East Asian neighbours.
In addition to seeing the sights and sounds of Singapore, our students will cross the border into Malaysia and spend a morning at the Excelsior International School to participate in class activities with their counterparts at our sister school.
In 2019, we've prepared a diverse and rich itinerary for the trip. Highlights include:
Sentosa Island and Crane Dance
Universal Studios
Check out a performance of the Sentosa Crane Dance
---
Links to the Australian Curriculum and Student Work
In addition to the wealth of life experience a trip like this provides, the International Study Tour enables our students to gain first hand knowledge around core curriculum questions; especially concerning geography.
Geography Inquiry Questions (Year 6 HASS)
How do places, people and cultures differ across the world?
What are Australia's global connections between people and places?
How do people's connections to places affect their perception of them?
The geographical diversity of the Asia region and the location of its major countries in relation to Australia (ACHASSK138).
Differences in the economic, demographic and social characteristics of countries across the world (ACHASSK139).
The world's cultural diversity, including that of its indigenous peoples (ACHASSK140).
Australia's connection with other countries and how these change people and places ACHASSK141).
Before, during, and after the tour students will complete work to reflect on their trip, their observations and set up lasting communication between themselves and the friends they make during their travels.
Reflecting on, and integrating, their experiences is an important part of getting the most from the tour and daily reflection pieces, focused on the what, why, when, where, and how of their day, will be completed.
In addition to daily reflections, each attraction visited will be accompanied by an activity such as quizzes and recording observations.
Our students are looking forward to the trip and we'd like to thank the tour staff, Mr Bradley King, Mrs Natasha Guse, Ms Kiri Marschall, and Ms Kylie Wikaira for accompanying the tour.