Posted on 13 June, 2019 in School Programs, Sport
Athletics Carnival Heating Up For 2019
Fun and competition are in the air at Larrakeyah Primary School as we look forward to our upcoming Athletics Carnival. The four School Houses, across all year levels, will be participating over the three day event beginning Wednesday, 19 June 2019.

About the carnival
This year students will represent their House and compete with their classmates across athletic events from Wednesday, 19 June 2019 to Friday 21 June 2019.
What's on?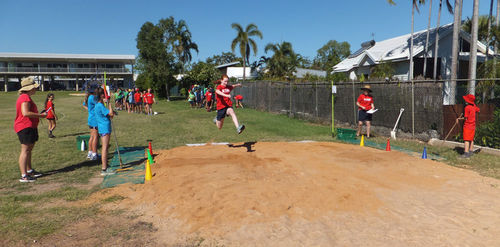 Wednesday
Our Middle and Upper Primary students will compete in track and field events, including:
Running races
Shot Put
Discus
High Jump
Long Jump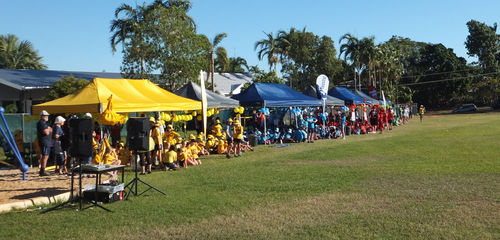 Thursday
Early Childhood students will participate in tabloid spot events such as:
Sling Throw
Bulls Eye
Slalom Replay
Over Under
Sack Replay
as well as field sports like High Jump and Long Jump.
Friday
The whole school gets involved in running events, marches, and chants before the winning House is announced in the early afternoon.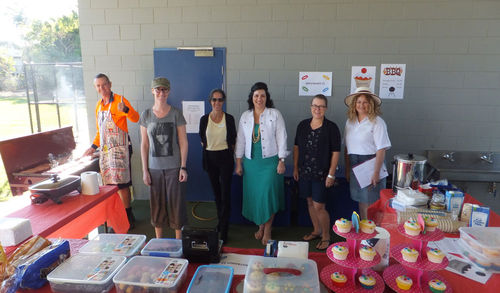 Part of the curriculum
The Athletics Carnival is part of our physical education curriculum, promoting physical fitness, skill development, health, and self confidence as well as fostering achievement and cooperation through friendly competition.
The importance of sport in childhood development is well supported. In addition to the physical benefits, such as developing coordination and motor skills, organised sport also prepares students socially and mentally for their school career and life.
Creating a safe and enjoyable sporting environment helps to:
Build self confidence and self-esteem.
Build resilience and positive attitudes.
Develop teamwork skills, responsibility and discipline.
Promote healthy habits and reduce the risk of obesity.
Studies have also found that physical activity can positively impact academic performance. Better physical conditioning improves focus in the classroom, and developing a sense of achievement on the field can encourage students to hold themselves to higher expectations in their learning.
The Athletics Carnival is a whole school event and our focus is on participating, enjoyment and getting involved in healthy activity. Everyone is encouraged to cheer their classmates on.